In 1989 Jeff and Chad began offering finishing services to the local woodworkers and cabinetmakers in the area. As a result of their experience working with high quality paints and finishes, they added a line of polyester painted cabinet doors that were offered to custom cabinet shops. During this time, Jeff and Chad's youngest brother Ben joined them in business.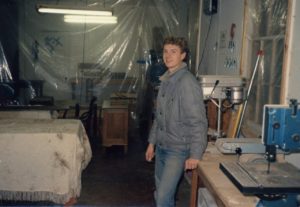 In 1995 the three Stone brothers added a line of high gloss polyester finished veneered cabinet doors made with unique veneers from around the world. In order to make the veneered cabinet doors, they began acquiring used plywood manufacturing equipment. This included their first plywood press which was found abandoned in a field in Indiana buried in two feet of mud.
It wasn't long before the majority of their business grew from making just veneered cabinet doors to making solid core architectural doors and full size veneer panels for convention centers, hotels, and large office buildings. In addition to wall paneling, the Stone brothers started producing hardwood plywood for window components, cabinets, furniture and store fixtures.
In 2000, The Stone brothers' father, Stan, took an early retirement from 3M to join his sons to help with some of the administrative responsibilities. Five years later the Stone brothers' mother, Karen, could no longer handle being left home alone all day, so she found a spare desk and a computer and now helps out with many of the office responsibilities.
In November of 2003 the Stone Family moved to their 7th and current location in West St. Paul. In 2005 and 2019 Navy Island purchased two adjoining facilities and currently has 238,000 sq. ft of manufacturing space on a 25 acre campus which included a 9 hole disc golf course.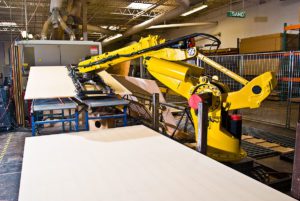 In January of 2010, Navy Island acquired Summit Door in St. Paul, Minnesota. Summit Door was founded in 1987 and grew to one of the upper midwest's most recognized manufacturers and distributors of architectural doors and frames. This acquisition allowed Navy Island to offer the full range of architectural wood products including architectural doors and fire rated frames along with their custom veneer panels.
In 2018, after six years of development, Navy Island was issued multiple patents for Soundply, the Worlds Quietest Acoustic panel. This revolutionary microperforated wood acoustic panel became the core product from which many other wall and ceiling products would be created including planks, baffles, beams, clouds and wall fins. The growth of Soundply quickly propelled Navy Island to become one of the premier acoustic wall and ceiling providers in North America.
We enjoy sharing our appreciation for the beauty of wood, so thank you for stopping by our website!
-The Stone Family